21/07/2017
Networkingtheworld,FranceWebSharing,FranceWebAsso,MyNewsCenterNavigator,SRU-Electronics.(Special Research Unit) for International Research.The Wallet of the Future.Faster reading experience for users.Facebook is working on another effort to woo publishers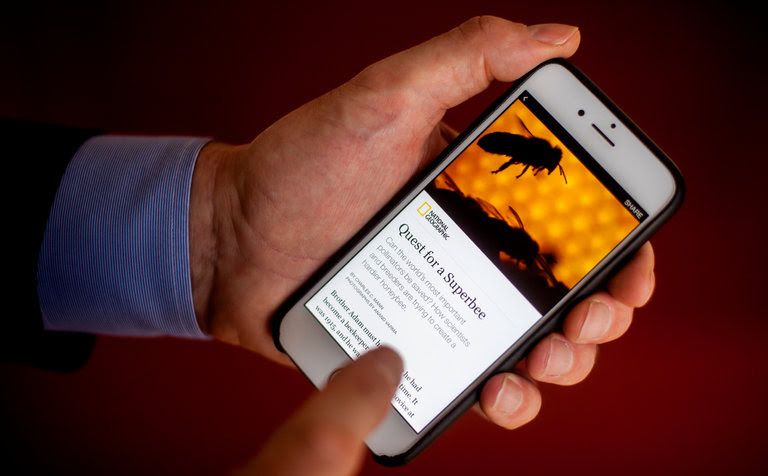 Facebook's Instant Articles product allows publishers to post news articles that can be read within Facebook rather than on the publisher's website. Sam Hodgson for The New York Times
Can Facebook Woo Back Publishers?
The publishing industry's relationship with Facebook has always had a certain scorpion-and-frog quality to it.
First, a quick recap of the fable of the scorpion and the frog: A scorpion meets a frog on a river bank and asks the frog to carry it to the other side. The frog, knowing a thing or two about scorpions, asks: How do I know you won't sting me?
The scorpion has a good response: If I do, then we will both drown. So off they go into the water, until the scorpion does what a scorpion does and stings the frog. The frog, knowing they will both drown, asks why. "It is my nature," the scorpion says.
And that brings us to Facebook. In 2015, the company launched Instant Articles. The idea was to give publishers a way to post articles on Facebook's News Feed that would live right inside Facebook, rather than send users off to the publisher's website. The social media giant recruited many publishers, including The New York Times, to the effort. It was deemed, at least by some, to be a success.
Then Facebook did what Facebook does: It tweaked the algorithm that controls what users see on their News Feeds. The net effect was to offer less exposure to what publishers were posting and more exposure to what users' friends were posting.
This, of course, did not go over well with the publishers, and many of them left the program.
Now, as Mike Isaac and Sydney Ember write for The Times, Facebook is working on another effort to woo publishers. The plan's details have not been ironed out, but it will most likely involve a tool of some sort that — after a user has seen a certain number of articles from a publisher in a certain time frame — will send users to a subscription offer for the publisher. It would be like the monthly limit that many publishers, including The Times, have imposed on the number of articles that readers can view without a subscription.
A pilot project with a small number of publishers is expected to start in October.
— Jim Kerstetter
10:17 Publié dans 21CenturyWebArchive, Advertising, Agregator, Ailleurs sur le web, AlertInfo, Annonces, Annonceurs, Archive21stCentury, ArchiveWeb21, Articles, Bonjour Stefan de FranceWeb, Citations, Collections, Communiqués de presse, Consulting, DATA, Dipl.Ing.Stefan V.Raducanu, Events,..., Exposants, Facebook, FranceWeb sur Facebook, FranceWeb, e-GlobalNetWork, FranceWebAgency, FranceWebNews, Groupes, International, Internet, Liens, LMathieuwebcollection, Ma Bibliothèque, Madeleine et Stefan Raducanu, Monde, MyNewsCenterNavigator, Networking, OneGlobalLocal, Press, RaducanuBestWebcollection, RemiFranceWeb,Editeur, RemiWebMyCollection, Réseau, Sharing, SRU-Electronics, Tablette, Un être culturel, USA, Web, World | Lien permanent | Commentaires (0) |
Imprimer |
|
Facebook | | | |
| |
|
del.icio.us |
Digg