05/07/2016
Does your social media marketing need a fresh boost? Want to fast-track your results (and prove what you're doing is actually working)? Your solution: Social Media Success Summit 2016
Hi Stefan!




Does your social media marketing need a fresh boost?

Are you thinking about expanding into new social networks or dabbling more with live video?

Want to fast-track your results (and prove what you're doing is actually working)?
Now there's an easy way to discover and implement the newest social media tactics. Think professional development, designed just for you.

Your solution: Social Media Success Summit 2016--the online mega conference from Social Media Examiner.

Now you don't have to go to physical conferences to hear from the pros. No travel, no time off work and no costly registration fees.

The world's leading pros who practice, experiment with and teach social media marketing show you how--all live from the comfort of your office chair.



It's our 8th annual online summit. You'll save $450 if you're among the first 600 to register by Friday.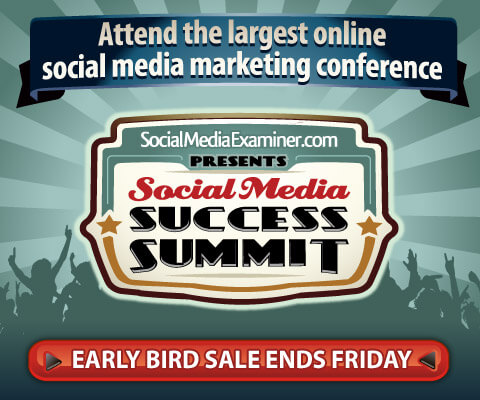 We've recruited the top social media experts for this special event.

They'll share exactly what works so you can immediately implement new social media tactics to grow your business--and they'll help you prove it works.

Plus, there's no travel because it's all online.

Click here for details.



Thirty-nine of the world's leading social media pros will be your Summit instructors.

Soak in knowledge from Mari Smith (co-author, Facebook Marketing: An Hour a Day), Michael Stelzner (founder, Social Media Examiner), Kim Garst (author, Will the Real You Please Stand Up), Joel Comm (co-author, Twitter Power 3.0), Amy Porterfield (co-author, Facebook Marketing All-In-One for Dummies), and other leading experts in Facebook, Instagram, LinkedIn, YouTube, Twitter, Pinterest, Snapchat, Video, Visual Marketing, Live Video, Marketing Tools and Analytics--just to mention a few!

This ONLINE summit will empower you to gain more exposure, increase traffic, attract quality customers and track, measure and analyze your social media marketing results.

Click here to learn more and find out how you can save $450 on your summit ticket (ends Friday, July 8th).

Here's to your success!

Michael A. Stelzner

Founder, Social Media Examiner



P.S. If you've not experienced our online summits, they're super rich with content, just as you've come to expect from Social Media Examiner. Also, remember this is an online event, so there's no travel requirement.
id: dea0deb4-46f6c38f-6fe0734f-eb3d4fd4
14:27 Publié dans 21CenturyWebArchive, Annonceurs, ArchiveWeb21, Dipl.Ing.Stefan V.Raducanu, Social, Social Media Intelligence, SRU-Electronics, Stefand'Internet | Lien permanent | Commentaires (0) |
Imprimer |
|
Facebook | | | | |